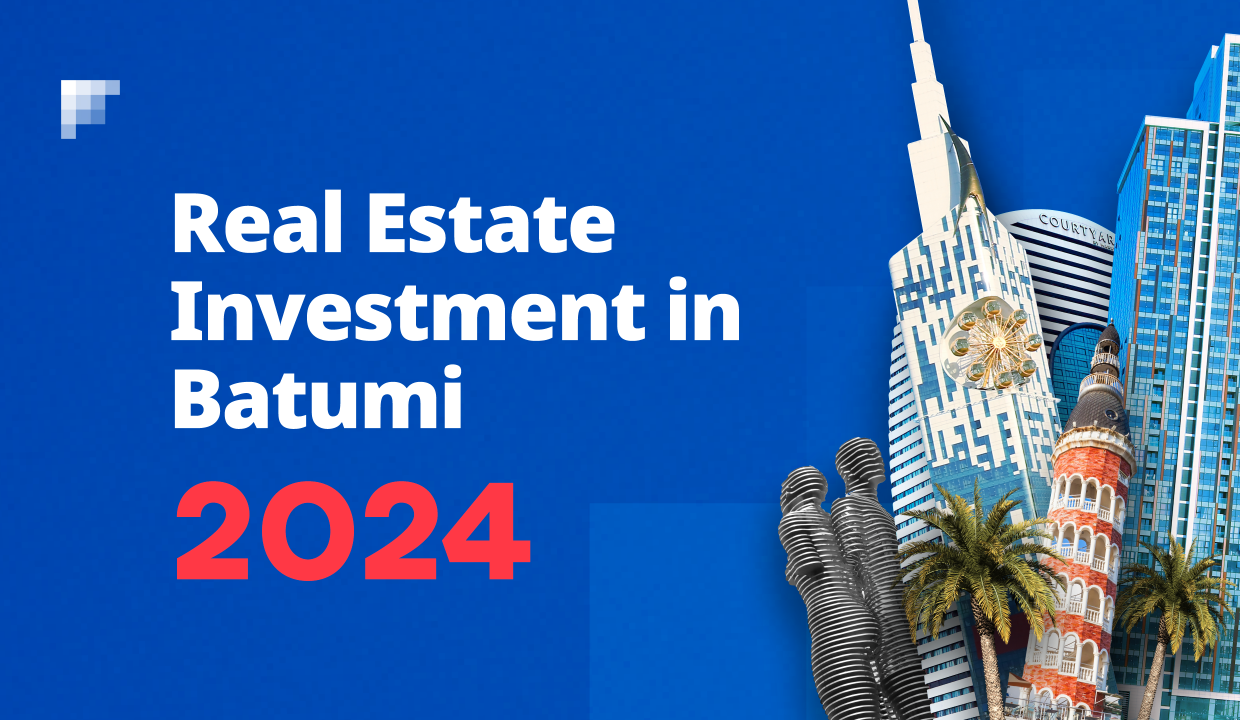 Real Estate Investment in Batumi: Best Opportunities in 2024
Batumi is the gem of Georgia, located along the Black Sea coast. The city amazes with its variety of nature, hospitality, and architecture that combines different styles and eras, creating a unique character. Batumi is the economic center of the Adjara region, offering many opportunities for business and Real Estate Investment.
Thanks to the rapid development of infrastructure, stable politics, and low taxes (more in the article), the city attracts tourists and investors not only from neighboring countries but also from around the world.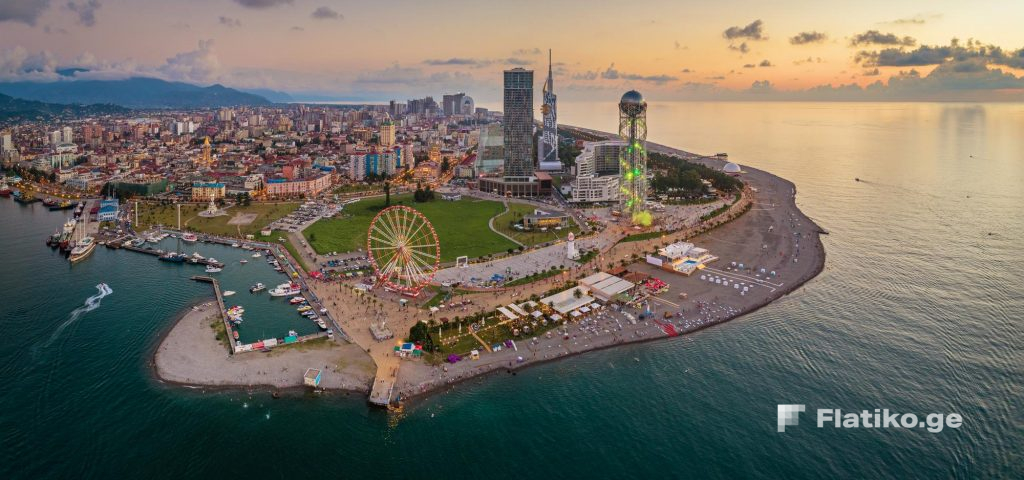 In this article, we will look at which real estate in Batumi is best to invest in 2024 and what factors should be considered when choosing a project for investment, as well as a few resort villages worth considering for investment.
Location: The location of the project is the most important factor when choosing real estate. For instance, projects located close to the beach, parks, schools, tourist attractions, and shopping centers are considered more attractive for investment and profitability than complexes without such characteristics.
Condition and Quality of Construction: It is important to be assured of the project's quality, what materials are used in construction, and of course, compliance with all norms and standards as well as legal nuances and verifications*.
Perspective of Growth: When investing in real estate, it's essential to pay attention to the development prospects of the area where it is located, and to the planning of infrastructure projects, as this can significantly affect the cost of the property, and the subsequent demand and rental rate.
Cost: The price of real estate in Batumi and the surrounding areas can differ, depending on the home's condition and location. For this, it is necessary to analyze the market prices and choose a property with an attractive price and growth potential.
Legal Aspects: Before buying real estate, you need to ensure the legal cleanliness of the property. It's important to know about the existence of a building permit for the property and check the ownership rights and the presence of debts. Our team will help with this and much more. We will check not only the company but also its owners, absolutely free when investing in real estate with us.
According to statistical data in 2023, the average price for unfinished real estate in Batumi started at $920/m2, showing steady growth. At the same time, it's noticeable that the cost of real estate here is higher than in neighboring towns (Gonio, Chakvi, Makhinjauri, etc.)— where the average price per property starts at $600 per m2. It's important to note that in Batumi, you can find prices much lower than the market, but often this will be due to legal non-compliance and/or poor construction quality, therefore, we strongly recommend turning to professionals to avoid an unsuccessful purchase.
When choosing real estate for investment, you should not focus only on price, because there are a number of other equally important factors, as we have already mentioned above, namely: construction quality, developer history, location, level of infrastructure development, availability of parking, proximity to shops, restaurants, gyms, schools, or kindergartens. All of this and many other factors increase or conversely (due to the absence of something) reduce the demand for the property. If comparing Batumi with neighboring resort villages during the summer season, the demand for real estate or the tourist flow in Batumi will be higher. This is certainly related to the lively activity taking place during this period of time, such as concerts and private parties, festivals and fairs, football matches, and much more. On the other hand, in the neighboring towns of Gonio, Chakvi, and Makhinjauri, which are considered quieter and calmer places for rest, hotel complexes offering various infrastructure and services as well as better quality beaches and seawater, and are especially popular with high occupancy rate. Such investment options may be particularly interesting to investors who want a stress-free investment and do not want to bother with management, invest with the principle: Invested and Forgotten.
Gonio
Gonio is a small resort village about 10 kilometers from Batumi, a 15-20 minute drive by car or taxi. Gonio attracts tourists primarily with its cleanest beach, which is a candidate for the Blue Flag status with its large pebbles and crystal-clear water. The village is also appealing for its history and culture, with the ruins of the ancient Roman fortress of Gonio-Apsaros, built in the 1st century AD.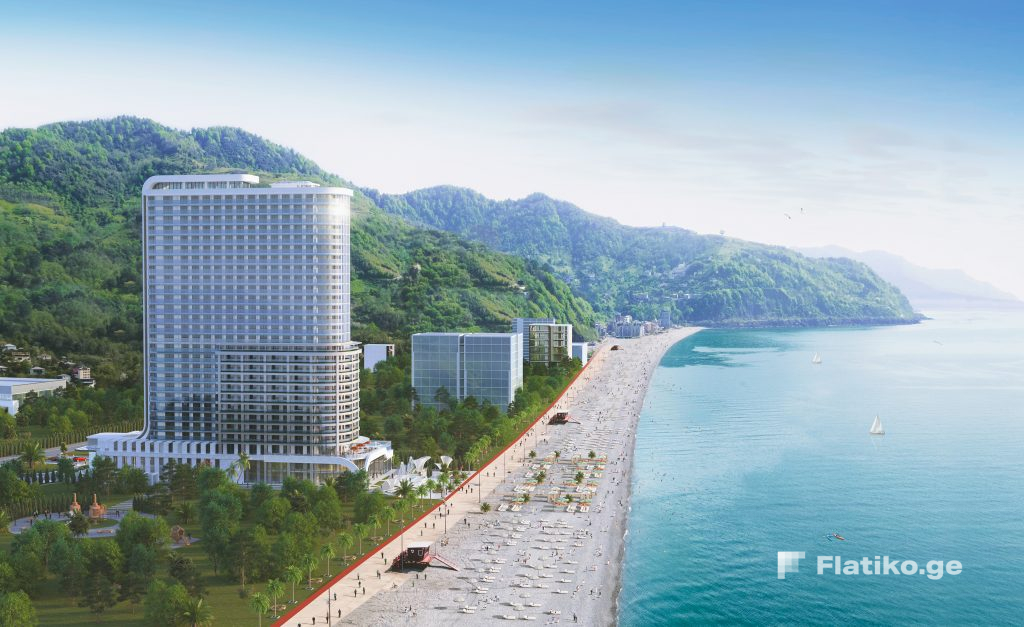 Gonio is a semi-enclosed ecosystem, surrounded by mountains that protect it from wind and green forests with a subtropical climate, where the abundance of tropical and subtropical plants and aromas is simply astonishing. The town offers guests and visitors a peaceful, ecologically clean rest, in other words, complete reunification with nature. Gonio can be a great choice for investors who like a quiet and secluded atmosphere combined with luxury hotels and proximity to Batumi and other tourist spots along the Black Sea coast.
Investors are offered the opportunity to invest in a time-tested product from global brands:
Makhinjauri
Makhinjauri is a small but unique Georgian village with incredible nature. The distance between Batumi and Makhinjauri is about 6 km, which is approximately a 15-minute drive by car or taxi. Makhinjauri is known for its healing mineral springs from various diseases, which local residents discovered at the beginning of the 20th century. The village offers its guests a cozy pebble beach surrounded by green hills. Close to Makhinjauri is also the Green Cape beach, the water here is considered very clean, making this location one of the best places to swim near Batumi.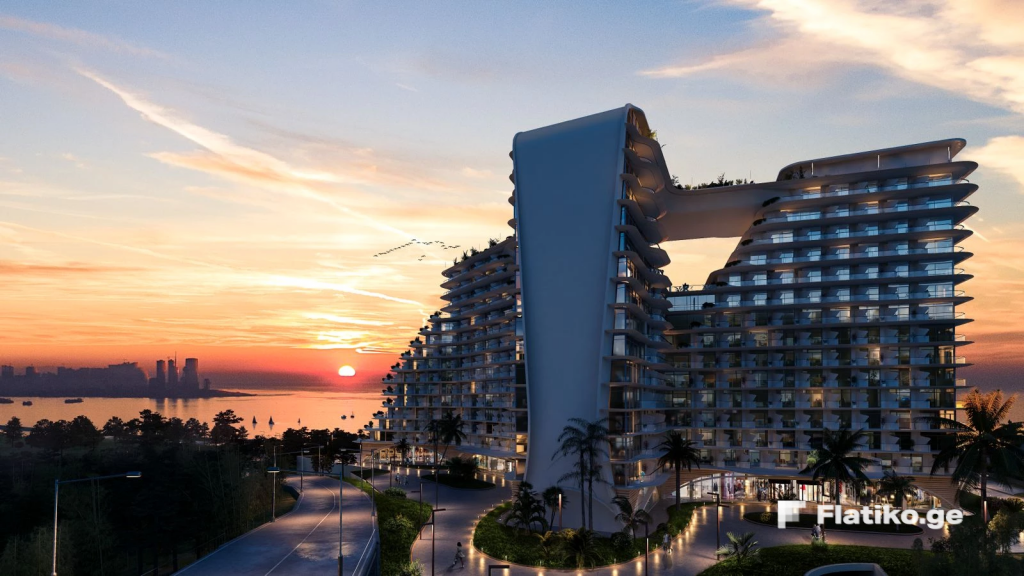 In addition, Makhinjauri deserves attention due to its proximity to the Batumi Botanical Garden, as well as the neighboring village of Chakvi, which is just 2 kilometers away. The Botanical Garden is a blooming oasis where the unique beauty with nine floristic sectors presents various plants from different exotic places of the world and counts more than 5,000 species. By walking through the "small" area of the garden with 113 hectares of magnificent landscapes, you will take a unique round-the-world journey through different corners of the Earth, moving from one geographical zone to another. There are several observation decks in the garden that offer a magnificent panorama of the Black Sea, leaving unforgettable impressions and memories of the visit. Makhinjauri is an interesting place for investment, combining history and unique natural resources with potential for further tourism development.
Chakvi
Chakvi is one of the greenest, most harmonious, and promising resorts on the Georgian coast. The distance between Batumi and Chakvi is about 12 km, which takes about 20-25 minutes by car or taxi off-season. During the season, the flow of tourists in Chakvi is so large that the journey of 25 minutes sometimes increases to 3 hours of traffic jam, but this problem will be resolved in the near future with the construction of a new highway in Georgia, which will connect Tbilisi and Batumi and will minimize the road along the Black Sea coast. Besides taxi, there is regular public transport – buses and minibusses.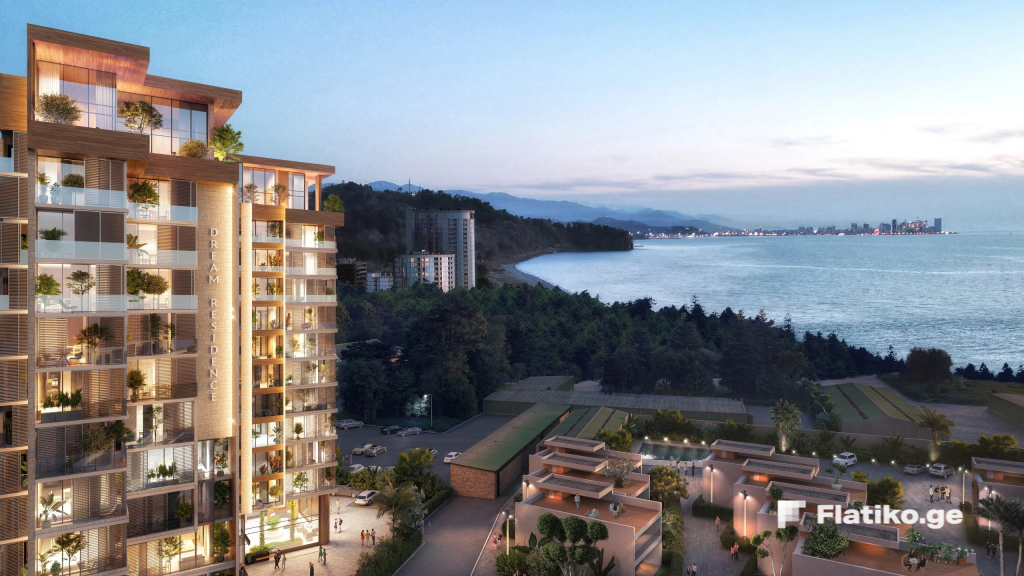 Chakvi attracts tourists with its 6-kilometer beach with clean water and small pebbles, which closer to the sea are turned into pleasant sand, as well as the delightful view of Batumi, getting brighter every year. On the coast of the village, there is an eucalyptus and pine grove with healing aromas. A well-known tea plantation was founded here at the beginning of the 20th century by the Chinese master Lao Jan Zhao, who came to Adjara to develop the tea industry and bred the first Georgian tea varieties, adapting them to the climate of Adjara, the master's house is still preserved.
Another historical attraction that attracts tourists is the ancient Byzantine fortress of Petra, built in the 6th century, located just 7 kilometers north of the village.
Investing in Chakvi real estate may suit investors interested in developing regions with tourist infrastructure, branded hotels, cottages, and apartments.
All of the above places are not so far from each other, which allows exploring the territories of the Georgian Black Sea coast within this same area. The nature of Georgia is so unique and multifaceted that it is impossible to describe briefly, but this is what makes investing in real estate in Batumi and neighboring resort towns so attractive! The flow of capital to Adjara is growing rapidly, reflecting the development of the region and contributing to the emergence of new unique projects.
The variety of new projects creates many options for investment for any budget! Let's consider the existing options, as well as the difference between Branded and Non-Branded hotels.
Types of investment properties:
Apartments – Represent the most popular type of real estate investments, thanks to their affordability and potentially quick payback. Low prices often attract investors due to the possibility of purchasing several units at the same time with a goal of diversification of the investment portfolio. Investing in under-construction properties is usually more profitable, due to the increase in square meter cost at each stage of construction. Multi-storey residential complexes are particularly popular among investors because, in addition to affordability, they often offer developed infrastructure, including parking, gyms, playgrounds, swimming pools, etc. The quality of new buildings also plays an important role in regions with high humidity, where reliable construction, ventilation, and waterproofing are key factors.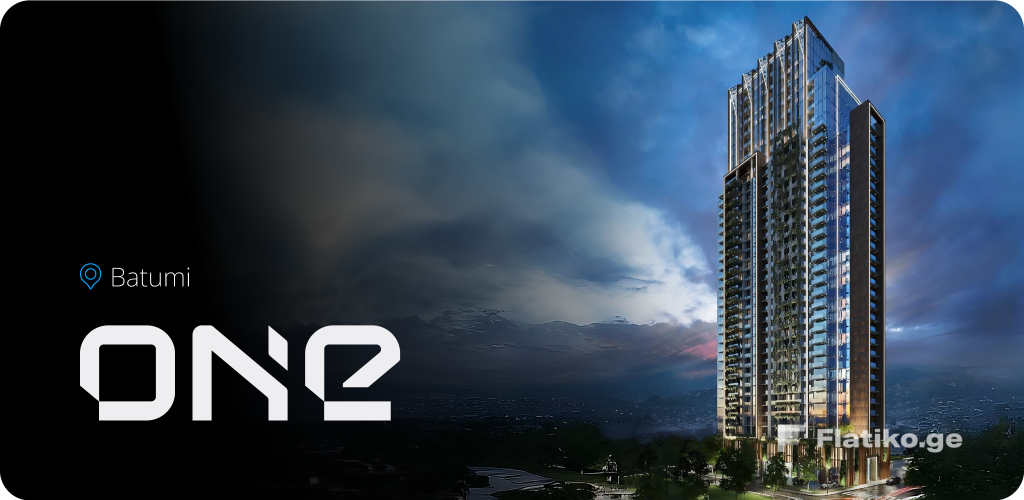 Villas and Cottages – Attract investors primarily for their privacy, as such investment projects are usually located on a closed areas with their own security and access system. Modern villas projects are equipped with all necessary amenities, such as swimming pools, saunas, recreation areas, sports halls, and if it is a large project with its own infrastructure in the complex, there may also be restaurants, cafes, and shops. Villas will be especially attractive for investment if they have a comfortable location, close to beaches, tourist attractions, or any other infrastructure and entertainment. A villa is suitable for those who value confidentiality and bet on luxury and comfort. Such an investment has a high potential with stable rental flows due to a large deficit in the market. Cottages, in turn, do not have significant differences from villas except for the size of the territory, which in villas can often be used for various events with more people than a cottage can allow.
Townhouse – An excellent option for those investors who are attracted by more compact living space that combines comfort with all necessary amenities and privacy. Townhouses typically provide a small recreation area, terrace, and often may include a BBQ area and private or shared pool. Townhouses are more affordable in price than villas and cottages, and due to the very limited supply in the market, they are often in demand by tenants, which increases their investment potential and attractiveness for investors. Some developers offer services for the management and maintenance of such projects, which allows not to worry about the property and just receive dividends.
Hotel complexes – are no less popular among investors but are considered more complex to understand and evaluate, but at the same time a promising type of real estate in Batumi and neighboring resort towns. Hotel complexes can be divided into hotel rooms and apartments in branded and non-branded hotels, which can directly affect your income.
Hotel rooms – are a very simple and understandable choice for investors who are looking for a stable and clear income without extra worries, with good potential of capitalization, with a condition that the investment was made correctly. On the other hand, there are risks associated with such investments. We talk about them in detail during private consultations.
Branded rooms and apartments – quite popular, but not the cheapest option for investing, due to the high and stable demand among tourists. Such demand is ensured by the quality guarantees and the absence of unpleasant surprises for the guests, as such rooms and apartments are created in compliance with all quality standards of international hotel brands. The cost of such properties is significantly higher than ordinary non-branded rooms, but at the same time, they are more profitable because well-known hotel brands are engaged in continuous marketing around the world and have a stable reputation, proven by time. By investing in branded properties, you entrust the management of real estate to the reliable hands of professionals, making investments in such projects safer. According to observations for the year 2022, the occupancy rate of branded hotels in Batumi was 68.6%.
Non-branded rooms and apartments — are attractive options for investors with limited budgets but they come with increased risks. Compared to branded hotels, such properties are less trusted by tourists because they have a lower level of quality management and, as a result, a lower price even during the season — which significantly affects the return on investment for you as an investor. However, the advantages should not be forgotten; such ordinary hotels have a more flexible management system and the ability to adapt to the market, often allowing you to negotiate more favorable management terms for yourself.
Investing in real estate in Batumi and neighboring resort towns can be very profitable and promising with a smart approach to project selection and market assessment, thanks to the stable economic growth of the region, the development of tourism, and the continuous improvement of the city's infrastructure, as well as a number of advantages such as low taxes (more in the article) and the possibility of obtaining a Residency Permit through an investment in real estate (more in the article).
When choosing an object for investment, it is necessary to consider all risks and additional expenses, such as repair and maintenance of the property. Also, it is very important to protect yourself from wrong decisions and before investing, conduct all necessary checks, from building permits and encumbrances to the financial situation and reputation of the company and its directors.
Investments in real estate in Adjara in 2024 can be an excellent opportunity for you to receive a steady increase in capital as well as stable rental income. Benefit from the rapid growth of the region, breaking all records, from visitation to the development of business activity, and also from free trade zones. Our experts will provide the best options on the market and help organize your portfolio.
We sincerely hope that Georgia will become your second home and we'll be happy to help you find the apartment or house you always dreamed about! We'll tell you everything you need to know about all the locations and their differences, as well as the cultural features of this country! Our experts are ready to advise you free of charge in choosing the ideal real estate option! Find your dream home by following the link: Flatiko.ge
DISCLAIMER: This article is for informational purposes and we are not responsible for any inaccuracies in this article or information that differs from the official.